The Air Swimmer Remote Control Inflatable Floating Shark
is one of the best selling gadgets out right now and is great fun for the whole family. One of the first things you will notice when using this device at a party or event is that everybody's first reaction is frightened.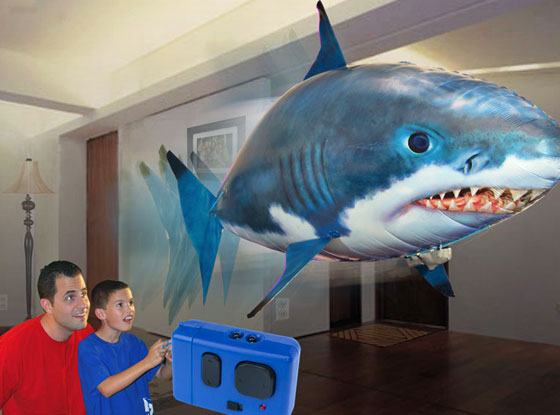 The Air Swimmer Shark is first filled with helium, and the remote control inflatable shark swims through the air with incredibly smooth and lifelike motion. The remote control used with the Air Swimmer Remote Control Inflatable Floating Shark provides multidirectional radio controlled balance for moving left to right. The air swimmers remote control works up to 40 ft. away.
It measures approximately 57 inches from nose to tail fin, and about 36 inches high, including the tail fins. The device's body is made from nylon and it can be filled with helium over and over again for lots of fun times. It can stay inflated for about two weeks depending on altitude.
These air swimmers are intended for indoor use only, and it is recommended that ceiling fans are turned off for the best use. This device requires four AAA batteries. One goes in the body of the flying shark and the other three go in the remote control. There is some assembly required. The Air Swimmer Remote Control Inflatable Floating Shark from round table toys and william mark is recommended for kids ages 7 and up. The Air Swimmer Shark is a bit too complicated for little children.
The Air Swimmer Shark does not work outside, because of the amount of air movement. Also, the infra red remote gets affected by the sun. It does not work in small apartments or small rooms, because it is too damn big. The user would need a decent sized house, with high ceilings, or an auditorium, church or outdoor hall to use this. Make sure there are no fans running.
The Air Swimmer Remote Control Inflatable Floating Shark really flies. Move the device forward by making the remote control flap the tail back and forth. Steer the Air Swimmer Shark by flapping with the remote control a little more left or a little more right. Make it rise and dive with a different button that tips the device up or down. With a bit of practice, a person can steer the device wherever they want. Unlike some other flying remote controlled toys, this one really seems to work.
Some discussion should be made about the assembly of the shark. The owner needs to be somewhat adept at assembling projects to put this device together from the orignial package. There is a video available that shows the steps in setting the Air Swimmer Remote Control Inflatable Floating Shark up. It is a bit easier to follow than the manual. This instruction video is highly recommended. You can find the link for the Air Swimmer Shark set up video given in the manual, or just look for it on the web. Either way, manual or video, patience is a virtue, and make sure that you have another person there to help.
The Air Swimmer Remote Control Inflatable Floating Shark can be inflated by going to any store that sells or uses helium balloons. It stays inflated for a long time. The description says it can stay up about two weeks. Later the store can top it off. You can also buy your own tank of helium. There is putty included to help compensate for the amount of helium remaining in the device. This compensation is called neutral buoyancy. This way it won't have to be refilled too often.
Most people when they see this toy, feel that they have to have it. Assemble it carefully and it will work. The device is fun, but some shoppers may find it a bit expensive. When the demand increases, perhaps more will be made and the price will come down.
All in all, The Air Swimmer Remote Control Inflatable Floating Shark
is fun, a bit delicate, and works as advertised.
Note:
The owner of this website, The TV Marketplace, is a participant in the Amazon Services LLC Associates Program, an affiliate advertising program designed to provide a means for sites to earn advertising fees by advertising and linking http://www.asontvstore.com to Amazon properties including, but not limited to, amazon.com, endless.com, myhabit.com, smallparts.com, or amazonwireless.com.